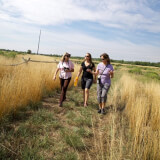 LGBTQ+ Community Hike - Hike with an Environmental Planner!
06/07/2023
| 05:30 PM - 07:30 PM


|

Registration Required
Science Behind the Scenery - 12 +
Where: Red Fox Meadows, program will meet at west parking lot off of S Taft Hill Rd When: Wed. June 7, 5:30p.m. - 7:30p.m. Program Description: Hike with a planner (or two)! It's time for feedback on the Urban Zone. Join Environmental Planners from the City of Fort Collins to learn about Red Fox Meadows Natural Area, one of our unique urban natural areas, and give feedback on how natural areas are managed. Explore natural areas and their importance to our local ecosystems and our own mental health and wellness. Hikes are intended to be a safe and inclusive space for members of the LGBTQ+ community to gather. Allies are welcome, please be mindful of the safe space. 1-2 miles; easy, 13+ Accessibility: Program takes place on dirt trails. Easy to moderate hike on uneven terrain of up to 3 miles. Accessible bathrooms and parking available at the parking lot. If you have any questions or concerns about the accessibility of a program, please contact naturalareas@fcgov.com or call 970-416-2815 for more information. People with disabilities are welcome to participate in all programs and we are happy to make any appropriate accommodations. Requests for disability-related services can be made during registration through the activity contact or by calling 970-416-2815 at least 2 weeks prior to the start of the activity. What to Bring: Dress appropriately for the weather forecast. Bring sunscreen; a hat; rain gear; closed-toe, sturdy shoes; snacks, and plenty of water.
Maximum Participants:
20
Registration is required for this activity. Click "register" to reserve your spot.
General Info
Thank you Fort Collins and Larimer County voters! Your support of citizen-initiated sales taxes makes land conservation and educational activities like this possible.
Randy Koenig
(303) 704-5048
COVID-19 Release and Waiver