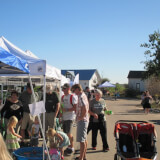 World Migratory Bird Day 2023 - Bird Boxes - Session 1
05/14/2022 | 11:30 AM - 12:30 PM
Primrose Studio |
Registration Required
Special Events - Mixed Ages
*Registration is required for this activity* Where: Primrose Studio, 4300 Michaud Lane. Fort Collins, CO 80521. Directions: From Laporte Avenue, take Overland Trail Road north 1.5 miles to Michaud Lane. Go west one mile to Reservoir Ridge Natural Area. Go through the parking lot to the gate located in the northwest corner. Travel 0.25 miles along Claymore Lake to Primrose Studio. When: May 14 - Session 1 is 11:30am - 12:30pm. Accessibility: Accessible parking and restrooms available. Bird Box decorating will be happening primarily outdoors on a covered deck. If you have any questions or concerns about the accessibility of a program, please contact naturalareas@fcgov.com or call 970-416-2815 for more information. People with disabilities are welcome to participate in all programs and we are happy to make any appropriate accommodations. Requests for disability-related services can be made during registration through the activity contact or by calling 970-416-2815 at least 2 weeks prior to the start of the activity. What to Bring: Dress appropriately for the weather forecast. Bring sunscreen, closed-toe, sturdy shoes, and a water bottle. There is drinkable water inside the Primrose studio building. Program Description: Habitat is important, both for migrating and for resident birds. Join the Northern Colorado Wildlife Center to decorate a bird box of your very own to take home and provide additional habitat for our feathered friends. Limit one bird box per household. Decoration will be done in 2 sessions to allow for adequate parking: 11:30am - 12:30pm and 12:30pm - 1:30pm. Sign up for the session that best fits your schedule!
Maximum Participants:
15
Registration is required for this activity. Click "register" to reserve your spot.
General Info
Thank you Fort Collins and Larimer County voters! Your support of citizen-initiated sales taxes makes land conservation and educational activities like this possible.
AJ Chlebnik
Pronouns: she/her/hers
City of Fort Collins
Natural Areas Department
Public Engagement Specialist
achlebnik@fcgov.com
970-224-6118
COVID-19 Release and Waiver