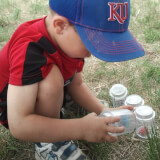 Junior Naturalists: Leave No Trace and Community Science
Budding Young Naturalists - 8-12 years
Put on your thinking cap and help answer scientists' research questions that benefit local natural areas. Using your powers of observation, you'll learn to monitor native plants, birds, and butterflies. Registration Required. Parents/guardians must be present at all times. Siblings are welcome, but the activities are geared towards the stated age group.. Location: Riverbend Ponds, Cairnes Dr. Entrance. 705 Cairnes Dr. Become a Junior Naturalist! Explore, learn, and grow your stewardship skills. Attend all activities and receive a special prize. One activity may be substituted by attending another activity in this booklet. Masks will be optional for all vaccinated participants and volunteers. We kindly request that unvaccinated or partially vaccinated individuals wear a mask while indoors or when within 6 feet of anyone not in their household group, including the astronomers. Waivers will be required to be signed either online or in person upon arrival. If you or anyone in your household is experiencing symptoms associated with COVID-19 (cough, difficulty breathing, fever, chills, muscle pain, headache, sore throat, or new loss of taste/smell, etc.) do not attend this program. Visit https://www.larimer.org/health/communicable-disease/coronavirus-covid-19 for more information.
Maximum Participants:
25
Sign Up for Updates
Registration is not required for this activity, but by clicking "sign up" you will receive a reminder and updates about this program.
General Info
Thank you Fort Collins and Larimer County voters! Your support of citizen-initiated sales taxes makes land conservation and educational activities like this possible.
AJ Chlebnik
Pronouns: she/her/hers
City of Fort Collins
Natural Areas Department
Public Engagement Specialist
achlebnik@fcgov.com
970-224-6118
COVID-19 Release and Waiver