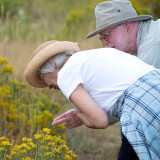 Sunset 'Just Be' Yoga and Meditation
Wellness - Mixed Ages
Wellness - Mixed Ages Where: Fossil Creek Reservoir. Meet at the outdoor classroom near the parking lot. When: Friday, August 29th, 6:20 PM - 7:20 PM Accessibility: Program takes place near dirt trails and in grass, relatively flat but uneven. Accessible bathrooms and parking available. If you have any questions or concerns about the accessibility of a program, please contact [email protected] or call 970-416-2815 for more information. People with disabilities are welcome to participate in all programs and we are happy to make any appropriate accommodations. Requests for disability-related services can be made during registration through the activity contact or by calling 970-416-2815 at least 2 weeks prior to the start of the activity. What to Bring: Dress appropriately for the weather forecast. Bring sunscreen, a hat if you want one, closed-toe, sturdy shoes for walking to and from the class site, and plenty of water. Bring your own yoga mat or towel if you want one. Program Description: The asana practice of yoga is designed to prepare the body for meditation. Sunrise and sunset are beautiful transitions in nature and allow us to appreciate the world around us and inside of us. Join Reneca and Duan of InnatelyU for meditation and a light yoga practice at sunrise and sunset for all levels of yoga practitioners. We want to build community and experience nature together with you in hopes to help us all live well and healthy!
Sign Up for Updates
Registration is not required for this activity, but by clicking "sign up" you will receive a reminder and updates about this program.
General Info
Thank you Fort Collins and Larimer County voters! Your support of citizen-initiated sales taxes makes land conservation and educational activities like this possible.
Lauren Hennessey
She/her/hers
Environmental Education Specialist
City of Fort Collins Natural Areas Department
Office phone: (970) 416-8009