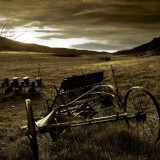 A Hike Through the Ages - East or West Route
Voices of the Past - 12 +
*Registration for this program is required and closes 10/1 at midnight* Where: Soapstone Prairie - Approximately a one-hour drive from Fort Collins. More complete directions can be found at https://www.fcgov.com/naturalareas/finder/soapstone. When: Sunday, October 1, 9:00a.m. - 3:00p.m., meet at Soapstone Prairie's south parking lot Program Description: Experts in geology, ecology, and history show how Soapstone Prairie was formed, the creatures that keep it functioning, and the homesteading and ranching history that is part of our heritage. The hikes offer participants unique off trail experiences. This hike may head east towards a spring wetland area, with moderate difficulty. We will parallel the Pronghorn Loop and Plover trails, but will be hiking off-trail over uneven terrain. Weather permitting, it may instead head west, to homesteads, arroyos, Native American stories, and more! Accessibility: This program involves a 3-4 mile, moderate, off-trail hike through potentially wet conditions. Hiking poles highly suggested (there will be a few extra pair for those who don't have their own) Accessible parking and restrooms available. If you have any questions or concerns about the accessibility of a program, please contact [email protected] or call 970-416-2815 for more information. People with disabilities are welcome to participate in all programs and we are happy to make any appropriate accommodations. Requests for disability-related services can be made during registration through the activity contact or by calling 970-416-2815 at least 2 weeks prior to the start of the activity. What to Bring: Dress appropriately for the weather forecast. It is generally a little cooler and windy at this site. Bring sunscreen, a hat, closed-toe, sturdy shoes, and plenty of water. Pack a lunch and snacks. Snake gaiters to protect feet and ankles will be provided and will be required for this off-trail hike. There is limited cell phone reception at Soapstone Prairie.
Maximum Participants:
15
Registration is required for this activity. Click "register" to reserve your spot.
General Info
Thank you Fort Collins and Larimer County voters! Your support of citizen-initiated sales taxes makes land conservation and educational activities like this possible.
AJ Chlebnik
Pronouns: she/her/hers
City of Fort Collins
Natural Areas Department
Public Engagement Specialist
970-224-6118
COVID-19 Release and Waiver