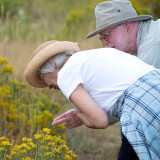 Forest Therapy
10/04/2023
| 01:00 PM - 03:00 PM


Primrose Studio |

Registration Required
Wellness - Adult
*Registration for this program is required and closes 10/4 at midnight* Where: Primrose Studio. Meet at the studio at 4300 Michaud Lane near Reservoir Ridge. Drive to the back of the parking lot and through the green gate that is normally closed, but will be open for registered participants this day. When: Wednesday, October 4, 1:00p.m. - 3:00p.m. Program Description: Experience the Japanese tradition of Shinrin-Yoku on this guided nature walk. Learn to open your senses to nature's healing power. We will walk very slowly, stopping often, and sitting for periods of time, so it is a very low-intensity activity. Unlike a hike, we are not concerned with getting to a certain place by a certain time. A waiver is required to sign upon arrival for all participants. Accessibility: Program takes place both in and out of doors and along wide dirt roads and trails around the studio. Accessible bathrooms and parking available. The walk will cover 0.5 - 0.75 miles over very gentle terrain. If you have any questions or concerns about the accessibility of a program, please contact [email protected] or call 970-416-2815 for more information. People with disabilities are welcome to participate in all programs and we are happy to make any appropriate accommodations. Requests for disability-related services can be made during registration through the activity contact or by calling 970-416-2815 at least 2 weeks prior to the start of the activity. What to Bring: Dress appropriately for the weather forecast. Bring sunscreen, a hat, closed-toe, sturdy shoes, and plenty of water. Weather permitting, you will be invited (not required) to remove your shoes for earth connection time, so you may want to bring a small towel to wipe your feet.
Minimum Participants:
2
Maximum Participants:
10
Registration is required for this activity. Click "register" to reserve your spot.
General Info
Thank you Fort Collins and Larimer County voters! Your support of citizen-initiated sales taxes makes land conservation and educational activities like this possible.
AJ Chlebnik
Pronouns: she/her/hers
City of Fort Collins
Natural Areas Department
Public Engagement Specialist
970-224-6118
COVID-19 Release and Waiver