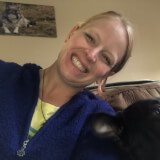 AJ C - Staff/Trainers
I am a Public Engagement Specialist with the City of Fort Collins Natural Areas and I organize community programs, programs by request and interpretive communications like signs and brochures. I'm excited to be back in Fort Collins again after being gone for 15 years. My favorite things to talk about are conservation issues, conservation research and raptors!! The black blur in the profile photo is my cattle dog. She never stops moving!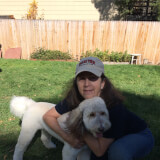 Mary C - Volunteer Naturalist Assistant
I am a veterinarian as well as a retired PSD science and physical education teacher. I served a total of twenty years on the Parks and Recreation board. I enjoy teaching and participating in fun activities as well as meeting new friends. I love to do activities with Ivy, my therapy dog. I am an author. My book, Drinking From the Trough: A Veterinarian's Memoir, by can ordered in the usual places. Enjoy! My second book is in the works!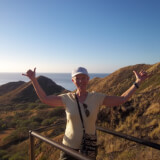 Sherri W - Volunteer Naturalist Assistant
I am awed by the abundance of nature available to us through the Natural Areas, right at our fingertips! I am excited to continue to learn about these Natural Areas and share them with others of all ages.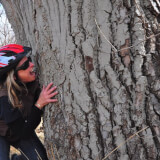 Sue K - Volunteer Naturalist Assistant
This photo is of me really getting into my work on the natural areas! I was the Education and Outreach Coordinator for the Natural Areas Department from 1994--2019. I trained Master Naturalists, delivered Certified Interpretive Guide training, managed, wrote, and edited interpretive signs and brochures, and I even got out to lead some field trips! In retirement I volunteer with the Natural Areas Department doing a few programs and helping with the bird surveys. Yes, I am still having fun!