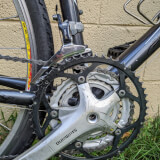 Bike Maintenance - 2
07/27/2023
| 05:30 PM - 07:00 PM


Washington Park |

Registration Required
In-Classroom Bike Class - 15 +
This class will be in-person, located at Washington Park. This is dependent on the weather and Covid restrictions. Students are encouraged to bring their own bicycle, but it is not required. The instructor will be reaching out prior to the class with details. In this second part intro to bicycle mechanics class we will focus on taking maintenance up a notch. Everything covered can easily be done at home to keep your bike happy. If this is your first time trying out at home maintenance on a bicycle, we recommend you take the Maintenance 1 class first. There we cover foundational topics like fix a flat. We will cover the following topics as time allows: 1. Cables and housing- a basic overview 2. Barrel adjusters- use to improve performance for braking and shifting 3. What's that sound?- a basic diagnosis of problems Students that complete the class will receive free tire levers or patch kit.
Minimum Participants:
2
Maximum Participants:
10
Registration is required for this activity. Click "register" to reserve your spot.
General Info
Lauren Nagle
(970) 224-6112