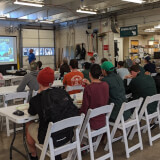 Smart Cycling: Road Rules
In-Classroom Bike Class - 12 +
Learn how to ride safely and legally in traffic or on trails. Discuss rules of the road related to cycling, how to conduct bicycle safety checks and how to fit and wear a helmet. Note: this is a lecture style class. Bikes not required. Instructor will email letting students know where on campus the class will be held.
Minimum Participants:
4
Maximum Participants:
20
Registration is required for this activity. Click "register" to reserve your spot.
General Info
Erika Benti
(970) 491-7600