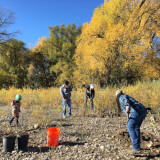 National Volunteer Week Willow Planting
04/21/2023 | 09:30 AM - 12:30 PM
|
Registration Required
Stewardship Project
Thank you for signing up to help with a National Volunteer Week willow stake planting and tour at the CSU Environmental Learning Center, a partner of Natural Areas! The goal of this project is to plant native willow stakes along the banks of the Poudre River at the Environmental Learning Center (ELC). Volunteers will be an active part of river restoration efforts happening at the ELC as part of a flow restoration project. Willows provide habitat for wildlife and birds and stabilize streambanks. Areas of the ELC are in need of willow plantings after recent construction work that is underway to secure an instream water right. Areas of the river channel have been re-connected to the floodplain and are in need of native willow plantings. There will be activities for a wide range of ages and is a great way to get to know more about your Natural Areas and give back to these public lands during National Volunteer Week and Earth Day. The tour will start near the pedestrian bridge at the ELC. We will visit newly constructed pools for the native, rare Plains Topminnow. From there, we will walk up a side channel of the Poudre River and stop to view the newly constructed low-impact diversion structure and pipe. We will continue walking downstream to view the river restoration. At our last stop, we will check out large wood structures that slow down flows and provide wildlife habitat. If you are walking, bring sturdy shoes for walking on uneven surfaces. If you are in a mobility device, we will be glad to use the ADA accessible trail and overlook on the tour! Here are some important things to know before signing up: 1) This event is for community members ages 8+ and no dogs are allowed at this event. 2) All participants must sign up through this link and will be prompted to sign a waiver (yay for less paper at the event!) 3) We will be meeting at the Environmental Learning Center (please meet in the parking lot, 2400 South Co. Rd. 9, Fort Collins). Participants will engage in light walking but no significant hiking. Half the group will work on the stewardship project for about an hour, while the other half of the group will take the tour. At the end of the first hour, the groups will switch to enjoy the other activity. 4) More specific information about logistics will be available once you sign up. Sign-In will begin around 9:30am with a start time of 10am. Volunteers will be given an important safety talk and then split into groups before beginning the activity. Carpooling is encouraged due to other events scheduled at this location. Snacks and water jugs (for refills) will be provided, but please bring your own water container, warm/layered clothing, close-toed footwear adequate for a dirt path, and any other items for a morning of comfort outdoors in a variety of weather conditions. Please reach out to Rachel Balduzzi with any questions (970) 577-1568 or rbalduzzi@fcgov.com.
Minimum Participants:
1
Maximum Participants:
50
Registration is required for this activity. Click "register" to reserve your spot.
General Info
Thank you Fort Collins and Larimer County voters! Your support of citizen-initiated sales taxes makes land conservation and educational activities like this possible.
Rachel Balduzzi
(970) 577-1568