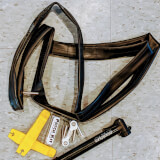 Bike Maintenance - 1
01/27/2022 | 05:30 PM - 07:00 PM
On-Line |
Registration Required
In-Classroom Bike Class - 15 +
In this online intro to bicycle mechanics class we will focus on conceptual topics and maintenance that can easily be done at home to keep your bike happy. Students are encouraged to take this class again in the spring to get hands-on experience.  We will cover the following topics as time allows: 1) Basic Bike Anatomy- review and learn all the basic parts of a bicycle. 2) Standard tools for at home repairs- we've come up with a top 10 list of tools used to work on your bike at home. 3) Fix a flat- this is the #1 at home repair. Learn how to fix a flat for your bike, either tubed or tubeless, or offer tips for your fellow students if you have a tried and true method. 4) Drivetrain maintenance - cleaning your bike, lubrication, chain wear. Students that complete the class will receive a free patch kit and tire levers! Zoom link will be emailed to the email students use to register.
Minimum Participants:
2
Maximum Participants:
10
Registration is required for this activity. Click "register" to reserve your spot.
General Info
Lauren Nagle
(970) 221-6705