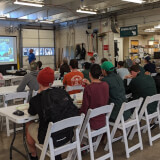 Smart Cycling: Road Rules
07/11/2023
| 05:00 PM - 09:00 PM


On-Line |

Registration Required
In-Classroom Bike Class - 12 +
Certified instructors will lead the class through an interactive and in-depth discussion of the following principles, while applying them to the Fort Collins area: 1.The Basics: Choosing a bike, maintenance, clothing/equipment, helmet, bike handling, shifting gears 2. Principles of Bicycling: Riding in a group, sharing paths/trails, inclement weather, night riding, long distances 3. Principles of Traffic Law: where to ride on the road, navigating intersections, rural roads 4. Bike Infrastructure 5. Hazards: Crashes and how to avoid them, five layers of safety. This session will help build an understanding of traffic laws as they apply to bicyclists, and provide strategies to increase safety and confidence while riding throughout the community. The target audience ranges from current bicycle commuters to people who are interested but concerned about using a bicycle for transportation. Smart Cycling Part 1 is a prerequisite to Smart Cycling Part 2: Road Skills (on bike). Class will be held online via Zoom. After signing up, students will be emailed by the instructor with more details.
Minimum Participants:
4
Maximum Participants:
20
Registration is required for this activity. Click "register" to reserve your spot.
General Info
Lauren Nagle
(970) 224-6112