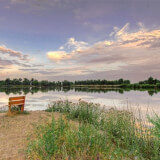 Winter Walks - Prairie Dog February Frenzy
02/18/2023 | 09:30 AM - 11:30 AM
Coyote Ridge Natural Area |
Registration Required
Natural Discoveries - Mixed Ages
Where: Coyote Ridge Natural Area. Meet in the parking lot. When: Saturday, February 18, 9:30a.m. - 11:30a.m. Program Description: It's reproductive season and the normally calm and tolerant prairie dogs are ready for romance. Their energy (and aggression) ramps up this time of year. Let's learn how the black-tailed prairie dogs survive and prosper in our harsh prairie ecosystem as they ensure the survival of their species. Will the dominant male keep his coterie (family group)? Or will he be ousted by an outsider? We'll hike through a prairie dog colony, up the hills to the cabin 1.1 miles from the trailhead and throw in some prairie dog geology on the way. We'll take a long stop at the prairie dog colony to observe behavior, so bring appropriate layers for some time standing still, and binoculars if you have them! Accessibility: Program takes place on dirt trails. Trail is wide with one large hill in each direction. There is NO bathroom at the parking lot, only bathroom is one mile down the trail, but is accessible. Total hiking distance is 2.2 miles. If you have any questions or concerns about the accessibility of a program, please contact naturalareas@fcgov.com or call 970-416-2815 for more information. People with disabilities are welcome to participate in all programs and we are happy to make any appropriate accommodations. Requests for disability-related services can be made during registration through the activity contact or by calling 970-416-2815 at least 2 weeks prior to the start of the activity. What to Bring: Dress appropriately for the weather forecast. Bring in multiple layers for both active walking and standing still. Bring sunscreen, a hat and gloves, closed-toe, sturdy shoes, and plenty of water. You may wish to bring binoculars, if you have them. Hiking poles are a great option if you are concerned about balance on uneven terrain.
Maximum Participants:
15
Registration is required for this activity. Click "register" to reserve your spot.
General Info
Thank you Fort Collins and Larimer County voters! Your support of citizen-initiated sales taxes makes land conservation and educational activities like this possible.
AJ Chlebnik
Pronouns: she/her/hers
City of Fort Collins
Natural Areas Department
Public Engagement Specialist
achlebnik@fcgov.com
970-224-6118
COVID-19 Release and Waiver