 Cristie L - Volunteer Naturalist Assistant
I retired from the US Forest Service in 2015. I have volunteered to do bird & butterfly surveys since 2020 and as a Volunteer Naturalist Assistant beginning in 2021.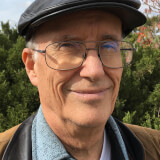 Gary R - Volunteer Naturalist
A former biology teacher turned science writer, illustrator, and graphic designer, I've been a Master Naturalist since 1995. My illustrations have been incorporated in many of the local natural area entrance signs. I enjoy sharing my passion for natural history and scientific illustration with others.