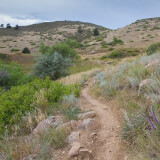 CANCELLED: Open House for the Cycling Community: Foothills Natural Areas Management Plan
Special Events - Adult
We are sorry but the Foothills Natural Areas Open House is cancelled due to the forecast blizzard. Please come next Tuesday, 4/16, 4-6:30 p.m. at the Northside Aztlan Center. In addition, the virtual open house will be posted at http://fcgov.com/foothills in the next couple of days. The Foothills Natural Areas Management Plan applies to Coyote Ridge, Pineridge, Maxwell, and Reservoir Ridge natural areas and the Foothills Trail. Work on the plan includes setting goals and strategies for promoting ecological integrity, protecting natural and cultural resources, and connecting people to nature. The process for developing the Foothills Plan also includes analyzing the existing management plan, evaluating visitor amenities (including trails) and facilitating a public engagement process. Due to expected high attendance, cyclists are invited to this Open House where you can learn about what makes the foothills natural areas special, and share your thoughts on goals and strategies to promote ecological integrity, protect natural and cultural resources, and connect people to nature. Non-cyclists may participate as well. The same information and staff will be at the Open House April 16. Stop by anytime to chat with planners and enjoy a snack. Kids-activities provided, translation available upon request. Learn more at https://www.fcgov.com/naturalareas/foothills-plan/ La Ciudad ofrece servicios de acceso a los idiomas, sin costo, a las personas que tienen la capacidad limitada para leer, escribir o hablar inglés y desean utilizar los servicios, programas o actividades ofrecidas por la Ciudad. Estos servicios incluyen intérpretes y la traducción de documentos o porciones de documentos. Para ayuda en acceso al idioma llame al 970.416.4254 y solicite hablar con el Coordinador de la Ciudad Título VI o envíe un correo electrónico a titlesix@fcgov.com
Maximum Participants:
200
Sign Up for Updates
Registration is not required for this activity, but by clicking "sign up" you will receive a reminder and updates about this program.
General Info
Thank you Fort Collins and Larimer County voters! Your support of citizen-initiated sales taxes makes land conservation and educational activities like this possible.
Zoë Shark
Natural Areas Public Engagement Manager
970-221-6311
zshark@fcgov.com