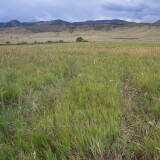 Welcome Bobolinks!
06/03/2023
| 08:30 AM - 10:30 AM


Reservoir Ridge Natural Area |

Registration Required
Natural Discoveries - Mixed Ages
Where: Reservoir Ridge Natural Area, Overland Trail Road Entrance When: June 3, 8:30am - 10:30am, meet at the parking lot off of Overland Trail, across from the Poudre Overlook Subdivision Program Description: The bobolinks are back! Each year for a short time, we are visited by one of Colorado's rare birds, the bobolink, and they only come to one place in Fort Collins - Reservoir Ridge! Kids - bring your parents for a fun morning of bobolink spotting. We will take a short hike and learn to listen and see this special visitor and some of its friends. All materials will be provided. Accessibility: Program takes place on a wide dirt trail, easy and flat. Hike is approximately 1 mile long. Accessible bathroom available at parking lot. If you have any questions or concerns about the accessibility of a program, please contact naturalareas@fcgov.com or call 970-416-2815 for more information. People with disabilities are welcome to participate in all programs and we are happy to make any appropriate accommodations. Requests for disability-related services can be made during registration through the activity contact or by calling 970-416-2815 at least 2 weeks prior to the start of the activity. What to Bring: Dress appropriately for the weather forecast. This hike has little to no shade. Bring sunscreen, a hat, closed-toe, sturdy shoes, and plenty of water. Bring binoculars if you want a closer look!
Maximum Participants:
30
Registration is required for this activity. Click "register" to reserve your spot.
General Info
Thank you Fort Collins and Larimer County voters! Your support of citizen-initiated sales taxes makes land conservation and educational activities like this possible.
AJ Chlebnik
Pronouns: she/her/hers
City of Fort Collins
Natural Areas Department
Public Engagement Specialist
achlebnik@fcgov.com
970-224-6118
COVID-19 Release and Waiver