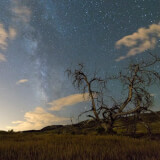 Astronomy & Skygazing - Mythology
10/06/2023
| 06:45 PM - 08:45 PM


Bobcat Ridge Natural Area |

Registration Required
Natural Areas After Dark - Mixed Ages
*Registration for this program is required and closes 10/6 at midnight* Tonight's Topic: Mythology Where: Bobcat Ridge Natural Area. Approximate address is 10184 West County Road 32C, Loveland. Go to: https://www.fcgov.com/naturalareas/finder/bobcat for more detailed directions. When: October 6, 6:45pm - 8:45pm, REGISTRATION REQUIRED. Please arrive on time-the gate closes right at the program start time and parking is not allowed on the road outside the gate. Accessibility: Activities at Bobcat Ridge will begin at the picnic shelter, a 10 minute walk on a paved, accessible trail from the dirt parking lot. Restrooms available in the parking lot. If you have any questions or concerns about the accessibility of a program, please contact [email protected] or call 970-416-2815 for more information. People with disabilities are welcome to participate in all programs and we are happy to make any appropriate accommodations. Requests for disability-related services can be made during registration through the activity contact or by calling 970-416-2815 at least 2 weeks prior to the start of the activity. What to Bring: Dress for temperatures 20 degrees cooler than the actual temperate. Pets NOT permitted at Bobcat Ridge Natural Area. Dress warmly, bring water and a blanket or chair to sit on in the parking lot. If bringing a flashlight, use a red light or cover it with red cellophane. Please bring binoculars if you have them. It will make star viewing easier. Program Description: Enjoy a brief, family-friendly astronomy activity followed by skygazing. Volunteers from the Northern Colorado Astronomical Society provide telescopes. A Volunteer Naturalist will give a 30 minute program at the picnic shelter before stargazing begins.
Minimum Participants:
5
Maximum Participants:
40
Registration is required for this activity. Click "register" to reserve your spot.
Links
General Info
Thank you Fort Collins and Larimer County voters! Your support of citizen-initiated sales taxes makes land conservation and educational activities like this possible.
Lauren Hennessey
She/her/hers
Environmental Education Specialist
City of Fort Collins Natural Areas Department
Office phone: (970) 416-8009
COVID-19 Release and Waiver