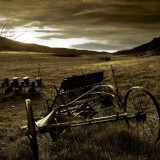 Bison-Archaeology Connection
Voices of the Past - 16 +
Learn about the acquisition of Soapstone Prairie, the history of the American bison, and the treasures uncovered at the Lindenmeier archaeological site. Hike of 0.25 miles, easy. From the shelter at the south parking lot, we may be able to see Soapstone's Bison herd. After a brief history and orientation to Soapstone Prairie's resources, you will hear the story of this unique bison herd, its past dominance on our continent, its almost demise during the mid to late 1800's and its successful recovery exemplified here on Soapstone Prairie. From that shelter we will all travel by caravan to the north parking lot where we will take a quarter mile walk up a gentle slope to the Lindenmeier Archeological Site where the ancient Folsom culture was rediscovered. It is at this shelter that the group will hear that amazing story. Location: Soapstone Prairie Natural Area Meet at the south parking lot, approximately one hour drive time from Fort Collins. Accessible: Yes Masks will be optional for all vaccinated participants and volunteers. We kindly request that unvaccinated or partially vaccinated individuals wear a mask while indoors or when within 6 feet of anyone not in their household group, including the volunteers. Waivers will be required to be signed either online or in person upon arrival. If you or anyone in your household is experiencing symptoms associated with COVID-19 (cough, difficulty breathing, fever, chills, muscle pain, headache, sore throat, or new loss of taste/smell, etc.) do not attend this program. Visit https://www.larimer.org/health/communicable-disease/coronavirus-covid-19 for more information.
Minimum Participants:
1
Maximum Participants:
20
Registration is required for this activity. Click "register" to reserve your spot.
General Info
Thank you Fort Collins and Larimer County voters! Your support of citizen-initiated sales taxes makes land conservation and educational activities like this possible.
AJ Chlebnik
Pronouns: she/her/hers
City of Fort Collins
Natural Areas Department
Public Engagement Specialist
achlebnik@fcgov.com
970-224-6118
COVID-19 Release and Waiver