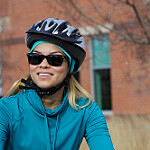 Cycling in Winter
12/01/2022 | 05:30 PM - 06:45 PM
On-Line |
Registration Required
In-Classroom Bike Class - 12 +
Interested in riding year-round, but not sure how to prepare for the colder season? You'll learn tips and tricks to help you ride safely, confidently, and comfortably. We'll cover what to wear, what to ride, safe winter bike handling, route selection, and winter bike maintenance. Zoom link will be emailed to the email account that is used to register for the class.
Minimum Participants:
4
Maximum Participants:
35
Registration is required for this activity. Click "register" to reserve your spot.
General Info
Lauren Nagle
(970) 224-6112