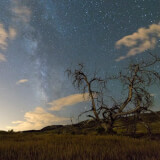 CANCELED: Astronomy & Skygazing - Globular Clusters
08/20/2022 | 08:00 PM - 10:00 PM
Bobcat Ridge Natural Area |
Registration Required
Natural Areas After Dark - Mixed Ages
Tonight's Topic: Globular Clusters and the Galactic Core: First observed in 1665, globular clusters are thousands of stars grouped together in tight clusters which appear around the center of our galaxy. Because they don't lie in the plane of our galaxy, stars don't block their view. They are great telescope objects this time of year. Where: Bobcat Ridge Natural Area. Approximate address is 10184 West County Road 32C, Loveland. Go to: https://www.fcgov.com/naturalareas/finder/bobcat for more detailed directions. When: August 20, 8:00pm - 10:00pm, REGISTRATION REQUIRED. Please arrive on time-the gate closes right at the program start time and parking is not allowed on the road outside the gate. For weather updates, visit the NCAS website at nocoastro.org Accessibility: Activities at Bobcat Ridge will begin at the picnic shelter, a 10 minute walk on a paved, accessible trail from the dirt parking lot. Restrooms available in the parking lot. What to Bring: Dress for temperatures 20 degrees cooler than the actual temperate. Pets NOT permitted at Bobcat Ridge Natural Area. Bring water and a blanket or chair to sit on in the parking lot. If bringing a flashlight, use a red light or cover it with red cellophane. Please bring binoculars if you have them. It will make star viewing easier. Program Description: Enjoy a brief, family-friendly astronomy activity followed by skygazing. Volunteers from the Northern Colorado Astronomical Society provide telescopes. A Volunteer Naturalist will give a 30 minute program at the picnic shelter before stargazing begins. COVID Guidelines: Masks will be optional for all participants and volunteers. Please feel free to bring your own mask for whenever physical distancing is not possible. If you or anyone in your household is experiencing symptoms associated with COVID-19 (cough, difficulty breathing, fever, chills, muscle pain, headache, sore throat, or new loss of taste/smell, etc.) do not attend this program.
Minimum Participants:
5
Maximum Participants:
40
Registration is required for this activity. Click "register" to reserve your spot.
Links
General Info
Thank you Fort Collins and Larimer County voters! Your support of citizen-initiated sales taxes makes land conservation and educational activities like this possible.
AJ Chlebnik
Pronouns: she/her/hers
City of Fort Collins
Natural Areas Department
Public Engagement Specialist
achlebnik@fcgov.com
970-224-6118
COVID-19 Release and Waiver