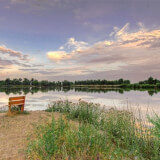 Natural History of the Foothills
09/02/2022 | 08:30 AM - 10:30 AM
Pineridge Natural Area |
Registration Required
Natural Discoveries - Adult
Where: Pineridge Natural Area, Meet at the Dixon Reservoir Parking lot, halfway up the hill on County Road 42C on the east side of the road. When: Friday, September 2nd, 8:30am - 10:30am Accessibility: Program takes place on dirt trails. Easy but uneven terrain with at least one steep hill near the parking lot. Hike is 2 miles long. Accessible bathrooms available at the parking lot. If you have any questions or concerns about the accessibility of a program, please contact naturalareas@fcgov.com or call 970-416-2815 for more information. People with disabilities are welcome to participate in all programs and we are happy to make any appropriate accommodations. Requests for disability-related services can be made during registration through the activity contact or by calling 970-416-2815 at least 2 weeks prior to the start of the activity. What to Bring: Dress appropriately for the weather forecast. Bring sunscreen, a hat, closed-toe, sturdy shoes that can get muddy, and plenty of water. Program Description: Discover fascinating ecological links in three dynamic life zones. From the prairie to the scrublands and up to the ponderosa forest tree line.
Maximum Participants:
15
Registration is required for this activity. Click "register" to reserve your spot.
General Info
Thank you Fort Collins and Larimer County voters! Your support of citizen-initiated sales taxes makes land conservation and educational activities like this possible.
AJ Chlebnik
Pronouns: she/her/hers
City of Fort Collins
Natural Areas Department
Public Engagement Specialist
achlebnik@fcgov.com
970-224-6118
COVID-19 Release and Waiver