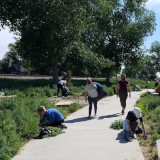 Sugar Beet Gardener Training
05/20/2021 | 04:00 PM - 06:00 PM
Sugar Beet Park |
Registration Required
Volunteer Training
Want to learn more about Colorado Native Plants and Pollinators? Like to garden? Just want to be outdoors with fellow nature enthusiasts? Come join the Sugar Beet Pollinator Garden crew! We're offering a training May 20, at 4 p.m. at Sugar Beet Park where Nature in the City installed a pollinator garden. It is still a young garden and needs your help getting established. Opportunities to garden will be weekly (Thursday or Saturday mornings).  No experience is necessary, so it's a great place to learn about Colorado gardening, native plants, pollinators, and meet new people. Staff or experienced gardeners will be at each gardening day. We'll provide all the tools. Bring water, a hat, sunscreen, and closed-toed shoes.
Minimum Participants:
3
Maximum Participants:
20
Registration is required for this activity. Click "register" to reserve your spot.
General Info
Thank you Fort Collins and Larimer County voters! Your support of citizen-initiated sales taxes makes land conservation and educational activities like this possible.
Charlotte Norville
Public Engagement Specialist
City of Fort Collins, Natural Areas
970-416-2480 office
970-305-0163 mobile
cnorville@fcgov.com
2022 Volunteer Acknowledgement-COVID