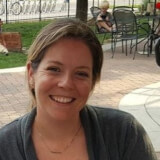 Charlotte N - Staff/Trainers
I am a Public Engagement Specialist for the City of Fort Collins Natural Areas. I started the City's FC Volunteer Services program, helping the City become a Malcolm Baldrige National Quality Award organization and certified as a Service Enterprise. I am a Certified Volunteer Administrator, Certified Interpretive Trainer, and have over ten years of experience in public engagement. Tyler E - Staff/Trainers
Hello Volunteers! My name is Tyler Eisenhand, I was recently hired on to the Natural Areas Education Team as their Education specialist. I am a recent graduate from CSU with a degree in Human Dimensions of Natural Resources. I have a passion for working with youth and others to connect people to the outdoors.