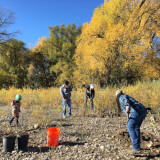 Monthly Trash Pick Up
Stewardship Project
The Spring Creek trail is home to many urban wildlife - let's help them out! Come pick up trash along the trail. Exact meeting location will be provided for those that register. Please bring gloves, a water bottle, and sunscreen. Due to COVID-19 restrictions, masks and physical distancing will be required by any participants and volunteers during this program. No more than 10 people will be present at the program. Program requirements are subject to change as CDC and County guidelines are updated. Additional instructions will be sent by e-mail to those registered prior to the program. Waivers will be required to be signed either online or in person upon arrival. If you or anyone in your household is experiencing symptoms associated with COVID-19 (cough, difficulty breathing, fever, chills, muscle pain, headache, sore throat, or new loss of taste/smell, etc.) do not attend this program. Visit https://www.larimer.org/health/communicable-disease/coronavirus-covid-19 for more information.
Minimum Participants:
1
Maximum Participants:
10
Sign Up for Updates
Registration is not required for this activity, but by clicking "sign up" you will receive a reminder and updates about this program.
General Info
Thank you Fort Collins and Larimer County voters! Your support of citizen-initiated sales taxes makes land conservation and educational activities like this possible.
Diane Ernst
(970) 456-3685
2022 Volunteer Acknowledgement-COVID